Generous and fresh
This wine is made with the native variety of Garnacha, a Mediterranean grape that has been grown in Catalonia since time immemorial. Its cultivation has spread primarily to the area of influence of the Ebro River; Catalonia, Aragon, La Rioja and Southern France.
This wine embodies the most vivid expression of the Red Garnacha, with aromas of red fruit with floral undertones.
Since the Ramon Roqueta winery first started making wine, it has led the way in innovation with methods such as separating each grape variety in separate vats or casks called "Tinas" to make mono-varietal wines.
Today, Ramon Roqueta has recovered the original system of numbering that was used in the old winery in Manresa to classify and store the different varieties in their vats. Garnacha was stored in Tina number 3.

80% Macabeo – 20% Chardonnay
Goloso y afrutado
Vino elaborado con las variedades Macabeo y Chardonnay, vendimiadas en su momento óptimo de maduración y fermentadas a temperatura controlada hasta que la fermentación se para, dejando un contenido de azúcar residual.
En nariz domina la expresión afrutada de la fruta blanca (manzana, pera) y de la fruta amarilla (albaricoque, melocotón), con recuerdos florales (rosa, jazmín) y un recuerdo final de fruta cítrica. En boca es untuoso por su presencia de azúcar, perfectamente equilibrada con un buen frescor marcado por un agradable posgusto final.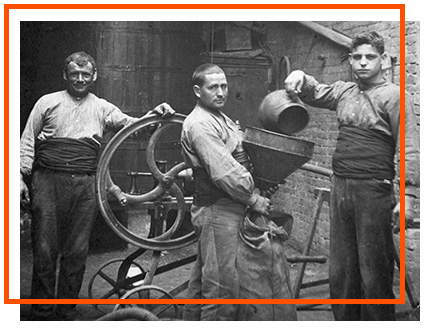 The pump which was turned by hand made work in the winery easier, as wine could be strained into barrels. This process represented a breakthrough with regard to production and quality. In the photo, the young Valentí Roqueta Prat.