Col·lecció Privada
120 ANIVERSARI
Grenache, Samsó and Sumoll
Insignia is made with Garnacha, Samsó and Sumoll, which come from areas in the region which provide optimal conditions best suited to these varieties.
Garnacha grape is elegant and produces fruity, pleasant and generous tones thanks to its adaptation to predominantly limestone soil with sandy topsoil.
Samsó is grown on poor soil, which is acidic and has a sandy texture. It is influenced by the sea and the Tramuntana wind; the end result is intense and an embodiment of Garnacha variety. It defines and harmonizes the very essence and backbone of this wine.
The Sumoll variety, on the other hand, enhances the wine with acidity and freshness, giving it greater length in the mouth.
Aged for 8 months in fine-grain European oak barrels.

Col·lecció Privada
120 ANIVERSARI
Garnacha, Samsó and Sumoll
This wine is a bright cherry red colour of moderate intensity; its distinct fruit aromas in the nose are remarkable. Cherry, strawberry, blackberry and raspberries blend smoothly with spicy undertones of cocoa and Mediterranean herbs. By leaving the wine to breathe in a glass, it releases fruity liquorice aromas with a touch of balsamic.
On the palate, it is a true reflection of the varieties used to create this blend: the exuberant sweetness of red Garnacha, the concentration that Samsó provides and the freshness of the Sumoll variety.
It has a pleasant finish on the mouth, with great depth and pleasing aromatic sensations which it acquires during its 8 months in European fine oak barrels.
Aged for 8 months in fine-grain European oak barrels.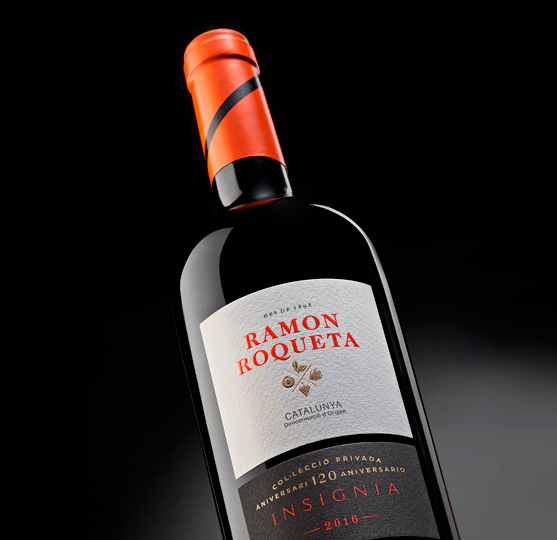 This wine, Insignia, culminates 120 years of wine production and family history to create a living testament to five generations of commitment and dedication to the vineyard.
In 1898, Ramon Roqueta founded the winery on the principles of respect and passion.
This wine pays tribute to him and keeps his legacy alive.